Sociology Department Annual Awards Ceremony 2023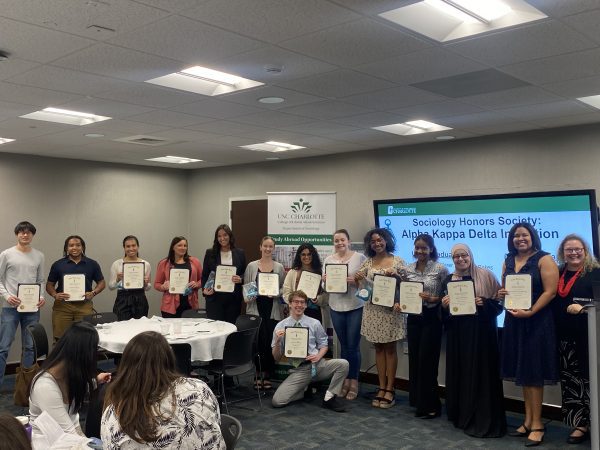 On May 3rd the department held the 2023 Annual Awards Ceremony to celebrate and recognize the accomplishments of students over the past year.
First, we gave a shout-out to our students in leadership positions in the Student Association of Sociology: Nacomi Flanders, President; Sonae Smith, Vice President; Zaniya Ward, Secretary. With your work, the club put out many great events and the number of members grew immensely.
Next, new members of Alpha Kappa Delta were inducted. AKD is an International Sociology Honors Society. The purpose of AKD is, "… to acknowledge and promote excellence in scholarship in the study of sociology, the research of social problems, and such other social and intellectual activities that will lead to improvement in the human condition." Requirements to be inducted into AKD include having a standing GPA of 3.3.
Our 2023 undergraduate inductees are: Adam Bass, Jade Boone, Mikayla Brown, Alexis Drake, Hailey Dunn, Yasmine Ederer, Damon Hawkins, Sarah Leonard, Luke McIntyre, Rebecca Mull, Caroline Pridgen, Dana Rakes, Gabrielle Ruiz, Jenny Skots, Laura Veloz Perdomo, and Caden Williams. Our 2023 graduate inductees are: Conrad Kim, Chelsea Rafan and Darian Redfearn-Washington.
This year we also took the time to recognize other student accomplishments. Shout out to the following students for their amazing achievements this year!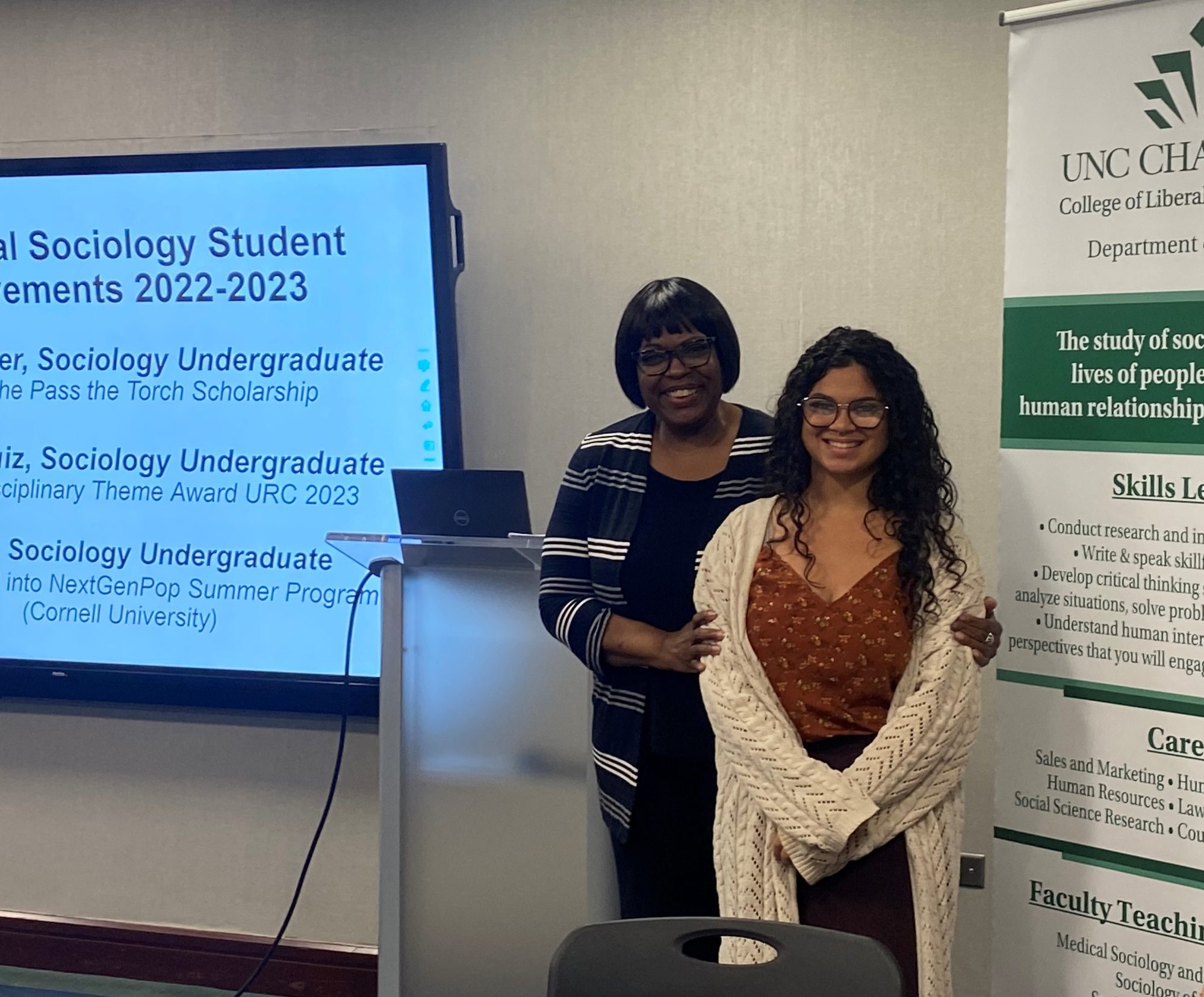 Jasmine Baker, Sociology Undergraduate

Awarded the Pass the Torch Scholarship

Gabrielle Ruiz, Sociology Undergraduate

Awarded Disciplinary Theme Award URC 2023

Hailey Dunn, Sociology Undergraduate

Accepted into NextGenPop Summer Program (Cornell University)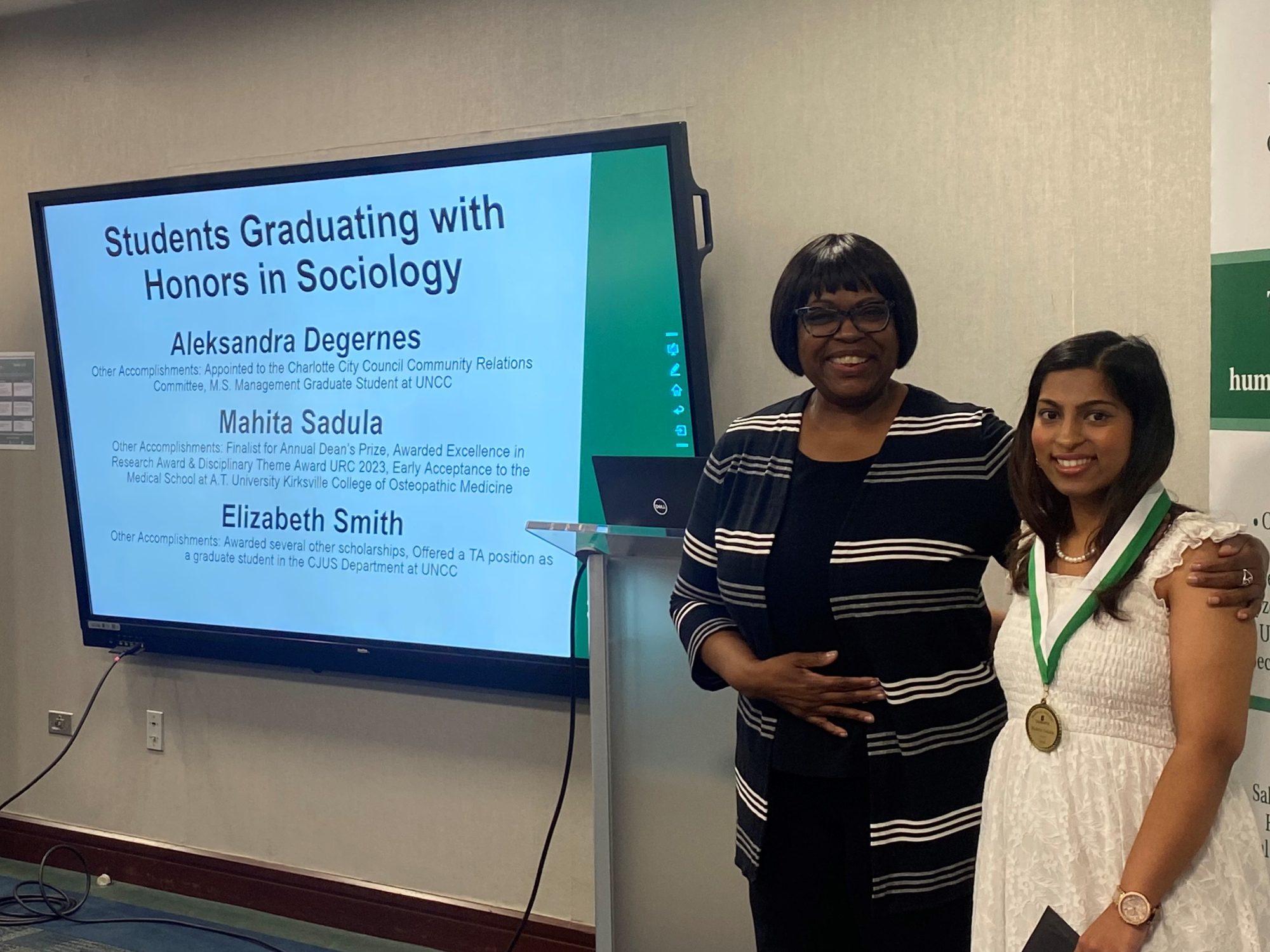 Every year, a junior undergraduate student is selected by the faculty to recognize their hard work for the Sociology's Outstanding Junior Award. This year, the faculty selected Hannah Sell who has achieved a 4.0 in both her Sociology major GPA as well as overall standing GPA.
For the first time since 2019, a Tom Forrest study abroad award was presented. This year, the winner was Hailey Dunn.
Next, we recognized students who completed the Sociology B.A. Honors program. Along with meeting the list of requirements, including a standing gpa of a 3.2, students must also complete nine hours of honors course work in Sociology as well as an undergraduate thesis. Below are the students who are graduating with honors as well as other accomplishments they achieved this year.
Aleksandra Degernes

Appointed to the Charlotte City Council Community Relations Committee, M.S. Management Graduate Student at UNCC

Mahita Sadula

Finalist for Annual Dean's Prize, Awarded Excellence in Research Award & Disciplinary Theme Award URC 2023, Early Acceptance to the Medical School at A.T. University Kirksville College of Osteopathic Medicine

Elizabeth Smith

Awarded several other scholarships, Offered a TA position as a graduate student in the CJUS Department at UNCC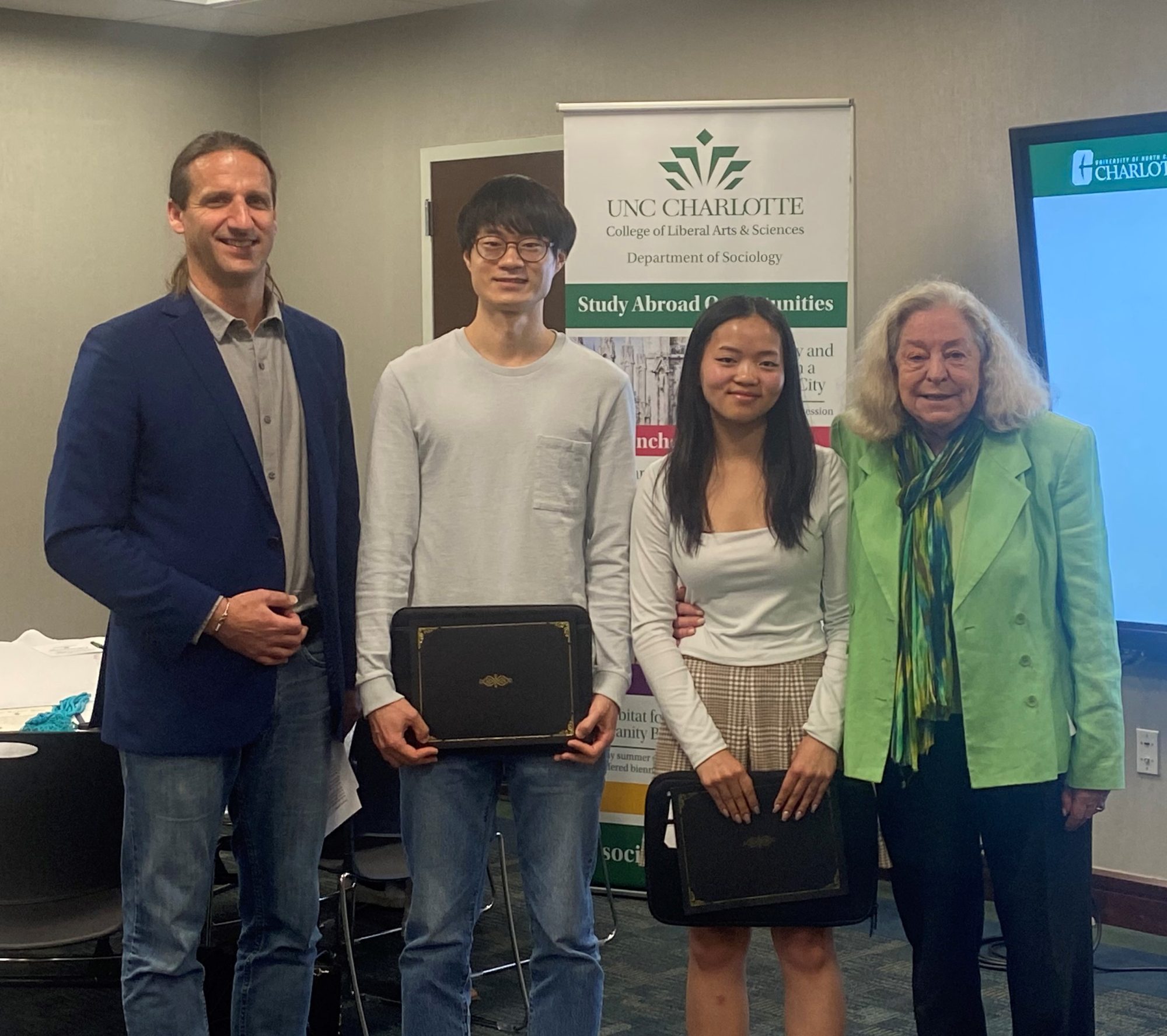 The Michael A. Pearson Scholarship is given annually to an undergraduate and graduate student in Sociology, Anthropology, Gerontology, and the University Honors College at UNC Charlotte. This award is given in honor of Dr. Michael A. Pearson who was a faculty member in Sociology for 25 years before his death in 2002. In honor of his memory, Dr. Pearson's family and friends have established this annual scholarship of $1,000 for students who shared his goals in racial justice, social justice, and working together to create a peaceful world. The 2023 recipients of this award are undergraduate student Lee-Anne Andre and graduate Student Conrad Kim.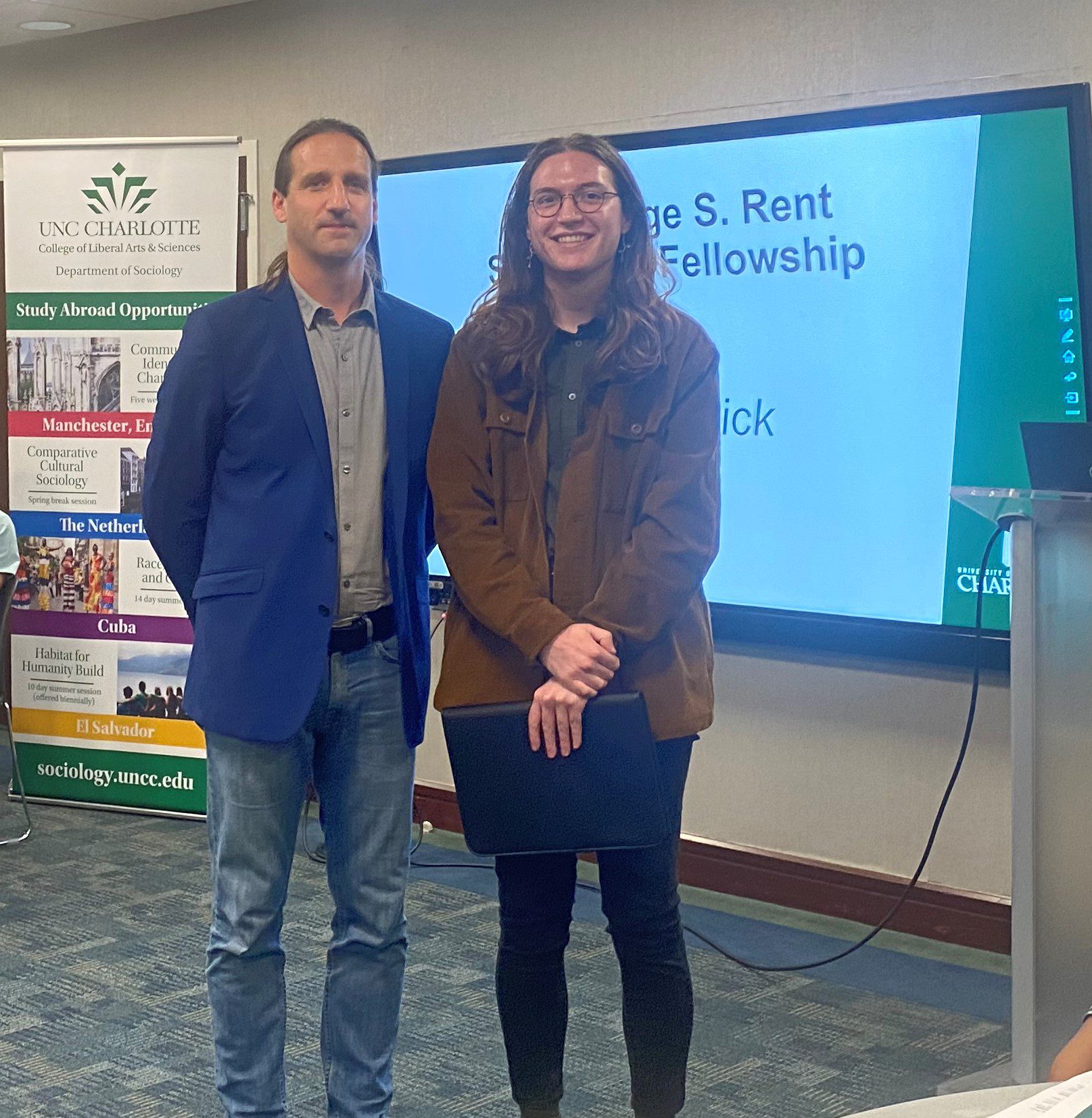 This year we recognized Jay Gulick as the recipient of this year's George S. Rent Sociology Fellowship, which is given annually to M.A. level students in Sociology with an award amount of $1,000.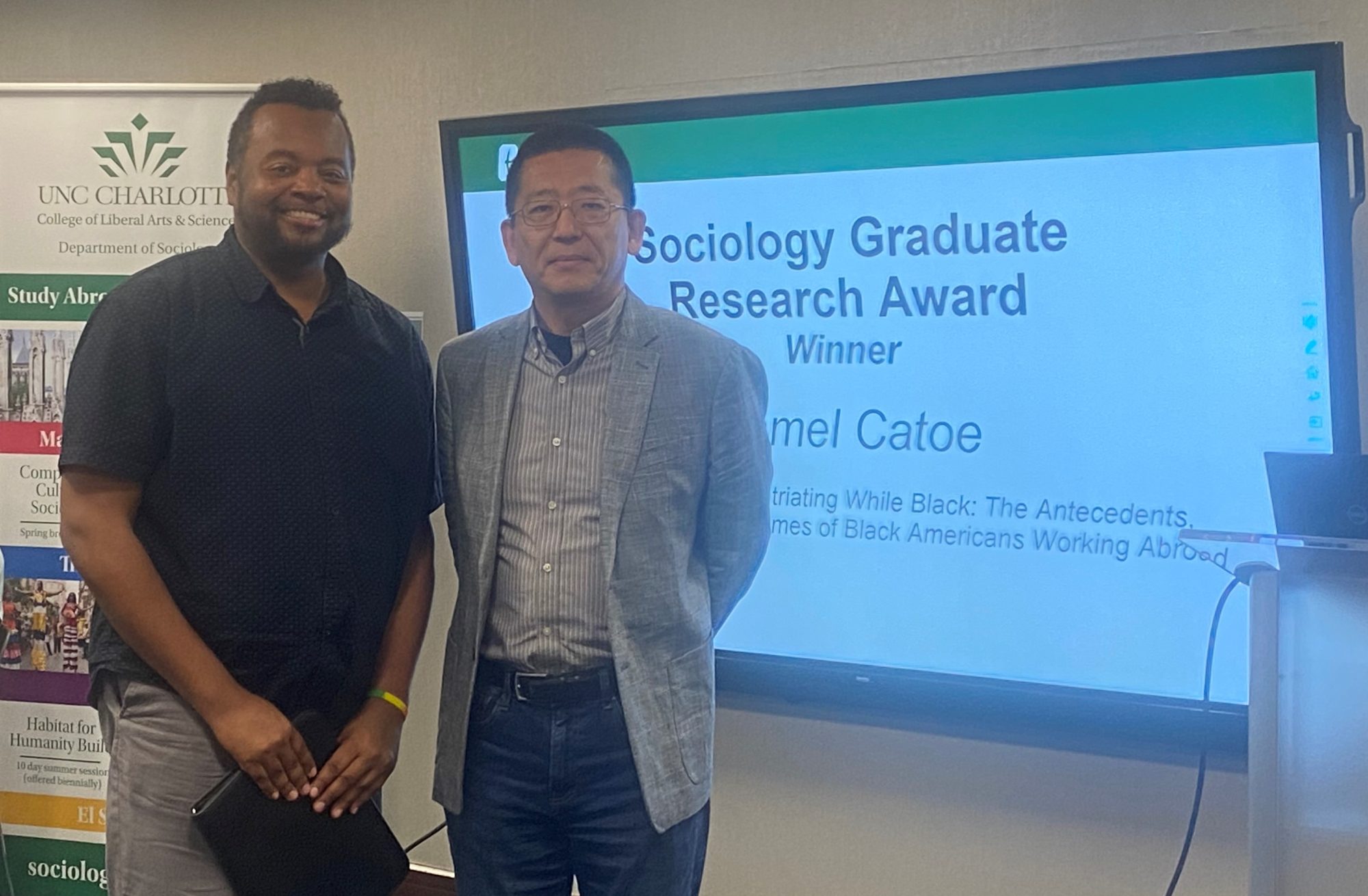 The final award presented this year was the graduate research award. Every year, faculty nominate a small group of M.A. sociology students for this award and the winner is announced at the Awards Ceremony. This year we congratulated Jamel Catoe on his research which is titled, "Expatriating While Black: The Antecedents, Experiences, and Outcomes of Black Americans Working Abroad".
Congratulations to all award winners and all 2023 Sociology graduates!